Chesterfield Pet Wellness Services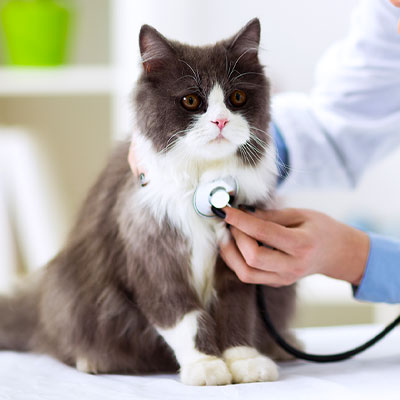 Chesterfield Veterinary Center is committed to providing pets and pet owners in Chesterfield, and throughout St. Louis, the finest veterinary care possible. Throughout our more than 30 year history, pet owners have come to rely on us as a welcoming and skilled partner in the care of their beloved companions.
To that end, we have always strived to remain on the cutting edge of veterinary and client care, which includes the building of a brand new facility. Completed in the late spring of 2012, our new animal hospital features a state-of-the-art surgical suite, updated treatment areas, a full laboratory, a complete pharmacy, four large private exam rooms with lift tables for large dogs, and more.
However, we are more than just our facility and equipment. Our doctors and veterinary technicians are highly trained and skilled practitioners who are committed to providing quality care and promoting client education and responsible pet ownership. They will work with you to understand your pet's unique healthcare needs and develop a preventative care plan that best meets your pet's individual needs.
Generally, we have found that when a dog or cat receives regular routine wellness exams, vaccinations, proper dental care, and screening for common diseases, they have a much better chance of living a long and happy life. We also know that when our pets receive the best possible nutrition, their energy level, alertness, mood, and health are significantly impacted.
Unfortunately, even despite the very best preventative care, a beloved pet may develop an illness or be injured. Our internal medicine and surgical expertise as well as advanced diagnostics and veterinary laboratory ensure your pet will receive a quick and accurate diagnosis. We will then explain that diagnosis to you as well as the various options for treatment.
In all that we do, it is our intention to provide you and your pet with the very best veterinary care possible within a modern and welcoming facility by a staff that is kind and courteous. Please take a look at the services we offer to learn why we believe they are important to the care and wellbeing of your pet. Then give us a call to set up an appointment today!
Veterinary Wellness Care for Every Age and Stage
Chesterfield Veterinary Center believes that prevention is the key to your pet's long term health as well as minimizing the lifetime cost of care. This means our doctors highly recommend routine wellness exams, vaccinations, regular lab work, deworming and fecal checks, as well as medications to prevent heartworm, fleas and ticks.
Wellness care is offered at a very reasonable cost. In fact, most of the tests can be done during your dog or cat's regular exam. These examinations are similar to the yearly physical you receive from your doctor. It is a chance to assess your pet's overall health, discuss any changes we see, educate and update you on advancements in veterinary care, and for you to discuss any concerns or questions you may have.
The yearly wellness care we recommend includes:
Comprehensive Physical Exam
During your pet's regular wellness exam your veterinarian will:
Examine the heart and lungs
Asses body condition
Check the teeth and oral cavity
Assess vision, eyes, and ears
Palpate the lymph nodes, abdomen and examine the skin
Palpate the joints and muscles
Deworming and Fecal Check
Dangerous parasites are present in the environment. Importantly, if brought into your home, these parasites can be passed from your pet to you and your family. For example, we normally associate parasites, such as roundworms, tapeworms, and hookworms with cats and dogs, but people can also be infected with the same parasites. Regular fecal checks and deworming are the best way to prevent parasitic disease and the transmission of intestinal parasites from pets to people. It also prevents the shedding of parasite eggs, which contaminate yards or any place a pet defecates.
Routine Blood Work
Routine Wellness Care includes a heartworm test, parasite screening, and should include a full blood workup. Not only can a full chemistry panel and complete blood count identify the presence of underlying disease processes, but these tests help create a baseline should your pet become ill between routine examinations. Additionally, blood work is necessary if your veterinarian recommends a dental cleaning, removal of a skin mass, or any other procedure that requires anesthesia.
We also recommend complete blood testing annually for all pets over the age of seven, and any pets on chronic medications.
Heartworm and Tick Borne Disease
Lyme and other tick borne diseases are prevalent in Chesterfield and throughout Missouri. It is also possible for dogs to test positive for heartworm. For this reason, we recommend that all dogs have an annual blood test for heartworm and tick-borne disease.
Preventative Medications
Since heartworm, fleas, and ticks are prevalent in our area of the country, Chesterfield Veterinary Center recommends that your pet receive preventative medication for these pests. We offer a variety of preventatives and would be happy to help you determine which is best for your companion.
In all, these services offer the best means to protect your pet's health and wellbeing through prevention and early detection of disease.