Diagnostic Services
Radiology
Over the past few years veterinary radiographs have become far more powerful and useful than ever before, principally because they can now be taken digitally and displayed on a computer. This means that your veterinarian can quickly take a highly detailed image and then manipulate it to gain a better view of your pet's bones and internal organs. The result is that diagnosing a wide range of medical conditions is made faster and far more accurate than ever before.
Chesterfield Veterinary Center believes that our patients deserve the best possible care. This is why we have a state-of-the-art digital veterinary radiology machine by IDEXX, the leading manufacturer of this type of equipment in the country. For complex cases, we are able to easily and instantly share these images with a board certified veterinary radiologist.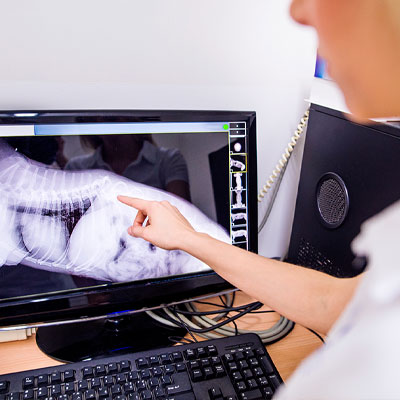 The Advantages of Digital Veterinary Radiographs
Digital radiographs can be saved to a disk and given to you as part of your pet's home medical record.
Images can be quickly shared via email to specialists when a second opinion or additional diagnosis is needed.
Your pet's time on the radiology table is reduced because fewer images need to be taken.
Digital radiographs eliminate the need to use toxic chemicals in the film development process, decreasing the risk of exposure to our staff and the environment.
Chesterfield Veterinary Center is committed to providing pets and pet owners in Chesterfield, and throughout St. Louis, the finest veterinary care possible. Throughout our more than 30 year history, pet owners have come to rely on us as a welcoming and skilled partner in the care of their beloved companions.
To that end, we have always strived to remain on the cutting edge of veterinary and client care, which includes the building of a brand new facility. Completed in the late spring of 2012, our new animal hospital features a state-of-the-art surgical suite, updated treatment areas, a full laboratory, a complete pharmacy, four large private exam rooms with lift tables for large dogs, and more.
However, we are more than just our facility and equipment. Our doctors and veterinary technicians are highly trained and skilled practitioners who are committed to providing quality care and promoting client education and responsible pet ownership. They will work with you to understand your pet's unique healthcare needs and develop a preventative care plan that best meets your pet's individual needs.
Generally, we have found that when a dog or cat receives regular routine wellness exams, vaccinations, proper dental care, and screening for common diseases, they have a much better chance of living a long and happy life. We also know that when our pets receive the best possible nutrition, their energy level, alertness, mood, and health are significantly impacted.
Unfortunately, even despite the very best preventative care, a beloved pet may develop an illness or be injured. Our internal medicine and surgical expertise as well as advanced diagnostics and veterinary laboratory ensure your pet will receive a quick and accurate diagnosis. We will then explain that diagnosis to you as well as the various options for treatment.
In all that we do, it is our intention to provide you and your pet with the very best veterinary care possible within a modern and welcoming facility by a staff that is kind and courteous. Please take a look at the services we offer to learn why we believe they are important to the care and wellbeing of your pet. Then give us a call to set up an appointment today!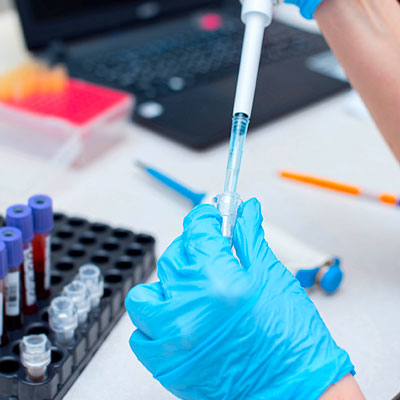 Our Veterinary Lab by IDEXX
One of the most important aspects of any preventative medicine regimen is the ability to analyze how well your pet's internal organs and processes are functioning. For example, are the kidneys and liver doing their jobs at removing waste from the blood stream? Does your pet have internal parasites? Is a growth on your pet's skin benign?
Laboratory testing allows your veterinarian to gain a view inside your pet's body in order to assess overall systemic health without the need for invasive and expensive procedures. This is why Chesterfield Veterinary Center maintains an in-house laboratory and regularly tests your pet during wellness exams or when we suspect your pet may have a health issue. Our laboratory allows us to perform urinalysis, parasite identification, fungal cultures, blood chemistry testing, and more. In many cases, we can receive results within minutes.
We also perform testing prior to procedures that require anesthesia so that we can better asses the risk of the procedure.