Health Maintenance Services
Lost Pet Microchip ID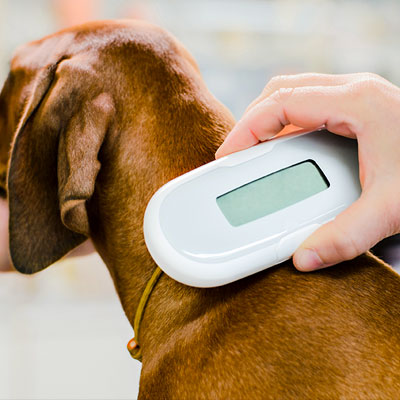 It is not unusual for a dog or cat to find its way out doors without its owner to explore the world for an hour or so and then find its way home for food and warmth. However, all too often a pet that has runoff fails to return home. This is a terrible situation and we have all seen the sad lost pet notices posted on telephone poles.
This begs the question: How would you find a lost pet if it its tag becomes lost or unreadable, or if you are traveling?
The sad fact is that getting lost is the number one cause of pet death. A broad range of studies have shown that more than 10 million pets get lost each year and about 90 percent will not be returned to their owner unless they have some form of permanent lost pet identification.
This is why Chesterfield Veterinary Center views microchips as a standard of care for all of our feline and canine patients. With a microchip, your pet can be identified quickly and easily by animal control officers, shelters or at veterinary hospitals. Microchips are safe, unalterable and permanent identification for pets.
Chesterfield Veterinary Center uses a universal microchip system. This system comes with a number of valuable benefits for you such as no registration or annual fees; customer service seven days per week, 24 hours per day; and worldwide coverage since universal microchips can be read by any International Organization for Standardization (ISO) compliant scanner in the world.
Veterinary Vaccines
Vaccinations are vital to maintaining your pet's health. Recently, quite a bit of information has been published about the so-called dangers of vaccinating your pet. The truth is, vaccination is a medical procedure—and just like any other procedure, there are risks and benefits.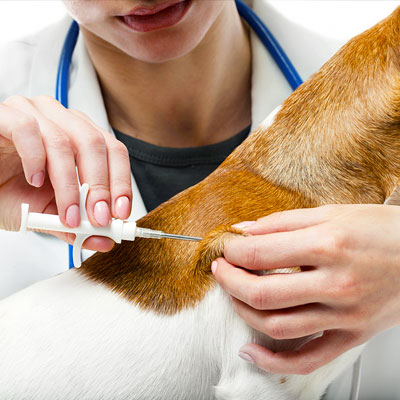 When administered appropriately, immunizations are one of the best tools we have available in preventative medicine. The key to using vaccines appropriately is to determine which diseases each particular pet may be at risk for, then vaccinate for those diseases no more than necessary.
The sad fact is that despite Chesterfield and surrounding communities being a wonderful place to live, we are not immune from a range of infectious diseases that commonly infect pets. Vaccinations are not only safe and effective; they are a fundamental piece of your pet's preventative healthcare plan. Advances in veterinary immunology have made diseases that once were relatively common and fatal to pets easily preventable. There are also vaccines—such as for rabies and other zoonotic diseases—that help protect your family from very dangerous and difficult to treat illnesses. Additionally, with each passing year, veterinary science is improving on existing vaccines as well as increasing our ability to prevent an even wider array of contagious diseases.
We believe that our balanced approach to vaccines is the best way to protect your pet from disease and minimize the risk of an adverse reaction to a vaccine.
Nutritional Counseling for Healthy Cats and Dogs
Pets are living longer, healthier lives than ever before and a primary reason for that is our expanded knowledge of the importance of proper nutrition to overall health. In fact, nutrition is the biggest health variable controlled by a pet's caregiver.
This fact is not lost on the doctors of Chesterfield Veterinary Center. During your pet's comprehensive physical examination we evaluate his or her body condition and give recommendations based on what we see.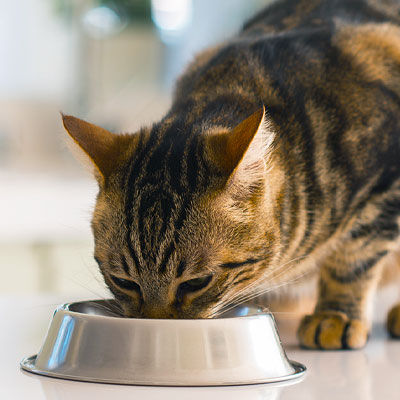 For most pets, our recommendations will include information on proper serving size and other feeding strategies to maintain optimal body weight and nutritional health. We will also help you wade through the claims made by pet food producers so you can make the most informed choice.
Prescription Diets
However, some pets have more serious nutritional challenges or chronic conditions that can benefit from a special diet. If we identify an issue in your pet, we will offer advice and provide information about diets that benefit specific medical conditions such as liver disease, bladder and kidney stones, renal (kidney) failure, food allergies, diabetes and other conditions.
Chesterfield Veterinary Center carries a diverse inventory of prescription foods and high-quality nutritional products. If your pet requires a prescription diet we do not carry, we can easily order it for you.
Dermatology & Allergies
If left untreated, allergy-related and dermatological conditions can fester and become serious health concerns for your pet. Therefore it is important to be able to identify the first signs and symptoms of allergies and dermatological conditions.
These include:
Inflamed ears
"Hotspots" – especially those that recur
Scratching or rubbing the eyes or mouth area
Flaking
Lesions on the skin
Hair loss
Red itchy bumps on the skin
Asthma-like wheezing or respiratory issues
All of these can indicate a serious dermatological condition or allergic reaction to allergens such as fleas, pollen, dust and various foods. If you notice any of these issues it is important that you bring your pet in for an evaluation because if left untreated they can become severe medical concerns.
Chesterfield Veterinary Center is capable of testing for and treating a number of allergic and dermatologic conditions in pets. For allergies, this may include hyposensitization in which your pet is exposed to small doses of an allergen to prompt immunologic tolerance to the specific allergen.
For both allergies and dermatological conditions, we will also take the time to explain your pet's condition, how to prevent future occurrences and the proper method of home treatment.
Veterinary Care for your Senior Pet
Congratulations! By taking the time to learn more about the special needs of your senior aged pet, you have taken the first step toward providing the best care for your friend in its golden years. At Chesterfield Veterinary Center, we place a special emphasis on senior care and are proud of the special interest we take in geriatric medicine and care of chronic disease.
As with humans, pets in their senior years—those of about six years of age and older—begin to go through a gradual reduction of their physical capabilities. However, this process can be slowed and managed through proper veterinary care thereby offering your beloved pet an extended period of vitality and good health. Additionally, preventative care tailored to your pet's age, lifestyle, risk factors and other elements can help prevent common diseases or detect them at early and easily treatable stages.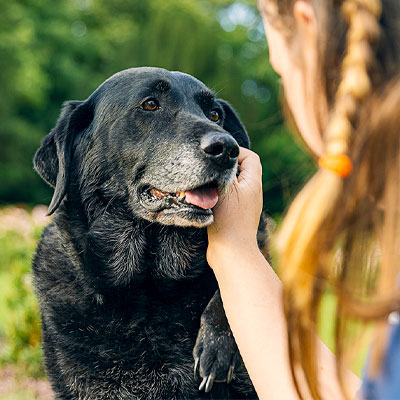 There is also an important role for you to play as your pet's primary caregiver. While you cannot control age related decline, you can influence your pet's activity level, living conditions, access to quality senior veterinary care, and daily nutrition. With your veterinarian's help, you can manage these factors in order to prolong your pet's good health, vitality, and increase his or her wellbeing, even as his or her pace slows a bit.
However, the best time to begin your pet's senior care program and recognize the need for a little extra TLC is well before age related conditions begin to set in. Chesterfield Veterinary Center recommends regular senior wellness exams, which should include a specialized lab work to detect the early signs of disease processes. Dental care at this point in life becomes even more important as well. We recommend routine dental exams and cleanings for all pets, but especially those in their senior years. Diet and weight gain are also important issues to keep an eye on. When you bring your pet in for a senior wellness visit your veterinarian will evaluate his or her weight and offer recommendations based on what we see.
Our Veterinary Pharmacy
Ensuring our clients have convenient and timely access to competitively priced medications for their pets is an important aspect of our veterinary practice. More than ever before, medications play an important role in helping cure a sick animal, relieve pain after an injury or surgery and manage chronic conditions such as arthritis and diabetes. Without these medications we would see higher mortality/morbidity rates, shorter lifespans, and degraded quality of life in our companion animals.
Chesterfield Veterinary Center maintains a comprehensive pharmacy within our practice and is able to quickly access any medication that is necessary for the care of your pet. Additionally, because we are the prescribing veterinarian, we are able to ensure there is a direct link between the exam room and our pharmacy. This means your pet will receive the right medication, at the right dose, in the right form as quickly as possible. We will also be able to easily guide you on the medication's use as well as monitor its effectiveness.
Refills are easy too. Simply visit our online pharmacy or give us a call and we can either mail them to you or have them ready at your next visit.